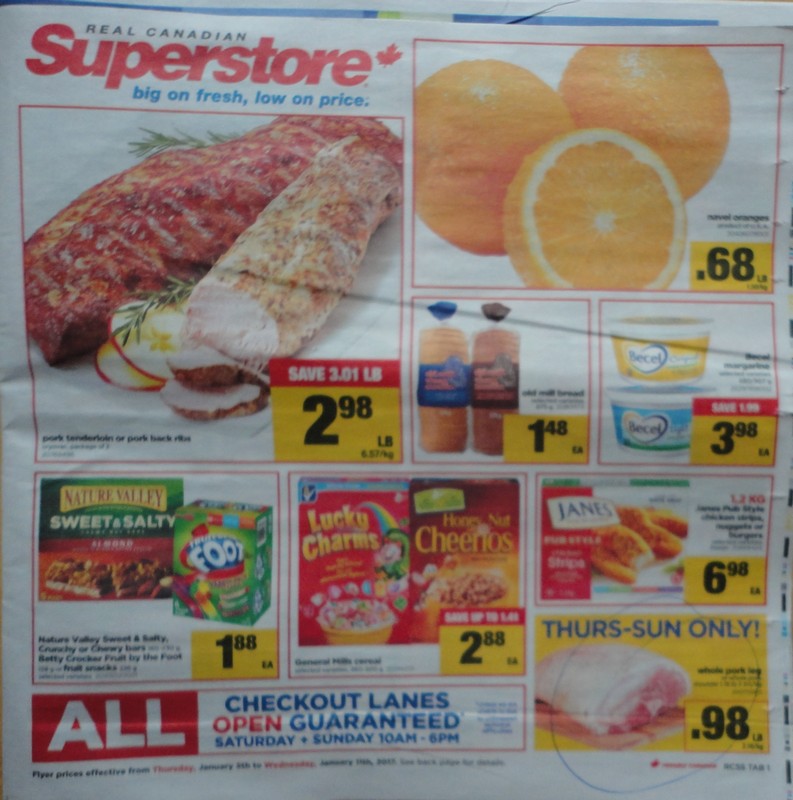 Looks like we are lucky this year and starting off with some great sales for the first official flyer sneak peeks of the new year!  Cyn88canada has previews of the Freshco, No Frills and Real Canadian SuperStore flyers so you can plan ahead to save even more.
No Frills Ontario $0.88 Sale Flyer Sneak Peek
Pillers Ham 200g $1.88
Wonderbread $1.88 (Use new PB&J coupon booklets to save $1 when you buy 2)
Pork side ribs $1.88/lb
Kraft Peanut Butter $2.88
Kraft Dinner 12pk $6.88
Select Kelloggs and General Mills cereals $1.88
Classico sauces 2 for $3.88
Plus many more deals and likely worth the trip for most of us this week.  Don't forget to check your PC Plus offers now to see if there are any that you can push to next week to make these deals even hotter.
FreshCo Ontario Flyer Sneak Peek
Campbell's soups $0.50
I Can't Believe It's Not Butter $1
Cavendish fries $1
Pringles $1.69
Purex laundry detergent $3
Real Canadian Superstore Ontario Flyer Sneak Peek
Note that the RCSS flyer starts on Thursday this week, since it expires next Wednesday, it is likely the new flyer start day.
Wonderbread $1.98 (use $1 WUB2 coupon to get them for $1.48)
Nabon Tassimo discs $5.88
Get 3000 bonus PC Plus points when you spend $15 in the bakery dept
Jane's Chicken 1.2kg large boxes $6.98