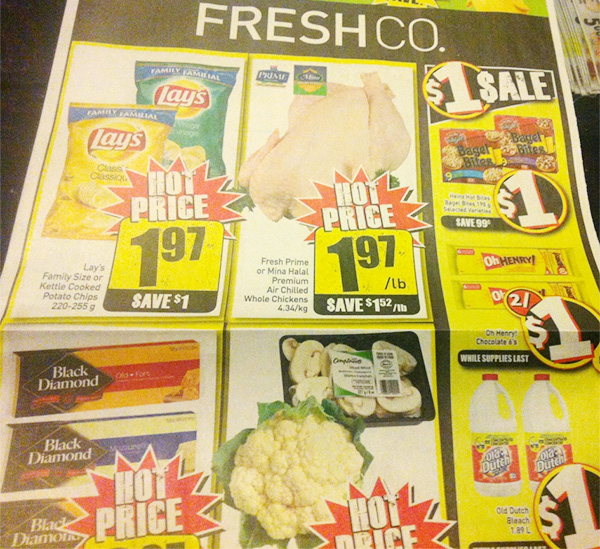 We have some sneak peeks of the upcoming grocery store flyers for Ontario from Ellen Cardinal.  Use these to plan ahead, compare to current flyers and decide what deals to buy now before the price increases or which items will be cheaper if you wait until the weekend.
Food Basics Ontario flyer sneak peek
Broccoli $0.99
Kraft BBQ sauce or dressing $0.99
I Can't Believe It's Not Butter $0.99
1L Chocolate milk $0.99
Freshco Ontario flyer sneak peek
Black Diamond cheese bars 700g $6.97
Cauliflower or mushrooms $1.47
Barilla pasta $0.97
NuPack long grain parboiled or white rice 8kg $6.77 (select stores)
They also have a dollar sale including Old Dutch bleach, Bagel Bites, Ricotta 300g, Summerfresh Snack n Go, English Muffins and more.
Metro Ontario flyer sneak peek
Schneider's bacon $2.99
Purex, Sunlight or Snuggle $3.99
Boneless skinless chicken breast $3.99/lb
Pampers wipes $2.99