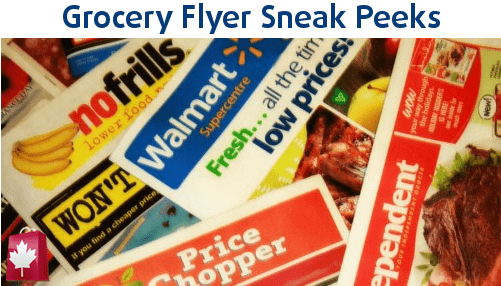 We have some early sneak peeks of upcoming Ontario grocery store flyers from cyn88canada.  Use these early previews to make a list of the items cheaper to buy now or know that an item will be cheaper if you wait until the weekend to shop.
FreshCo Ontario flyer sneak peek
Jane's chicken 1.2kg breaded chicken products or 852g burgers $6.97
Maxwell House instant coffee $1.97
Tetley tea 72s $2.47
Heinz ketchup 1.5L $3.97
Scrubbing Bubbles $2.99 (free after $3 insert coupon)
Food Basics Ontario flyer sneak peek
Mushrooms, lettuce or 5lb potatoes 3 for $5
Broccoli $0.88
Dempsters Soft Slice $1.97
Philadelphia cream cheese (large tubs) or CheezWhiz $2.97
Nestle Pure Life 24pk 500ml water $1.88
No Frills Ontario flyer sneak peek
Lean ground pork and beef blend $2.75/lb
Kraft Dinner 12 pack $5.97
St Hubert pies $4.97
Strawberries 1lb $1.97
10lb potatoes $1.97
Cucumbers $0.77ea
Click on the store names to view the flyer sneak peeks.