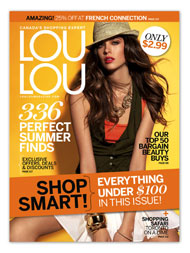 LouLou magazine is celebrating their 5th anniversary this September and as a promotion you can now subscribe to the magazine for only $1.50 an issue and as a free bonus gift you will also get the LouLou VIP SPC card.  I wasn't able to find a expiry date but I would assume that it would be good until the end of August.
This is a great time to subscribe to a great magazine and get the VIP SPC card as well.  Thanks to SimplifiedMommyTips for this great heads up.
Click here to subscribe to LouLou magazine and get your SPC Card.