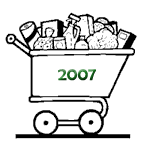 Hello everybody
I've been very busy during the holidays with my family and friends, and wasn't posting as usual, so I thought I'd update you on my plans for Smartcanucks.ca as we start a new year 🙂
I have a couple of exciting ideas lined up for SmartCanucks.ca which I'm currently working on, including new stuff for the blog, a new section (working on it with my friend) which I'll keep a secret until it's ready 😉 and some contests and rewards.
As for the forum, I feel guilty for my slow maintenance and updates. I spend most of my forum time cleaning up automated spam! a total waste of time! So I've decided to install a completely new and better forum which has way more features and better spam protection. I have some ultra-fun ideas for the forum and a huge surprise 🙂 It should be ready within a week – or two if I procrastinate 🙂
I'm also helping JimmyCanuck develop his own pop culture blog. He already chose and bought the domain name but I'll let him reveal the name once it's ready 🙂 Many of the enjoyable posts on SmartCanucks.ca are written by JimmyCanuck. His blog should be ready by March.
If you have any suggestions, ideas or complaints please let me know! I'm always looking for new ways of improving SmartCanucks.ca. My email is [email protected]
Thank you everyone for being part of SmartCanucks.ca either by contributing to the forum, writing comments or even just visiting. Thank you 🙂