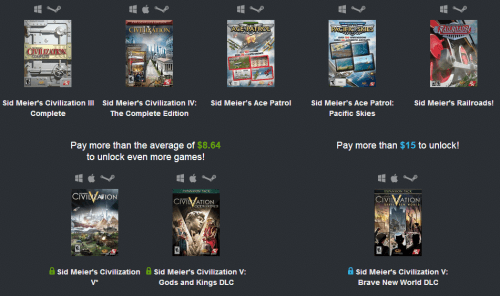 Support charity and pay what you want for this Sid Meier Humble Bundle! This Humble Bundle offer expires on February 18th, 2014.
The Sid Meier games included in this Humble Bundle are:
Civilization III Complete
Civilization IV: The Complete Edition
Ace Patrol
Ace Patrol: Pacific Skies
Railroads!
Pay more than the average $8.64 to unlock these games:
Civilization V
Civilization V: Gods and Kings Download Code
Pay more than $15 to unlock:
Civilization V: Brave New World DLC
The items in this Sid Meier's Humble Bundle would normally cost around $144, but Humble Bundle is letting you choose what you want to pay! Your purchase will support charities and you can choose exactly how you want your purchase divided between: 2K, Action Against Hunger, or even Humble Bundle.
All of the Sid Miere's games in this bundle need Steam for Windows to be able to be played.
Now is the chance to expand your Sid Meier collection while paying a minimum of $1 to gain access to these great games for Steam for Windows. Some of these games in the Sid Meier's Humble Bundle are able to be played on Mac products. You will see the little Apple symbol above the game title! Humble Bundle even accepts PayPal as payment 😉