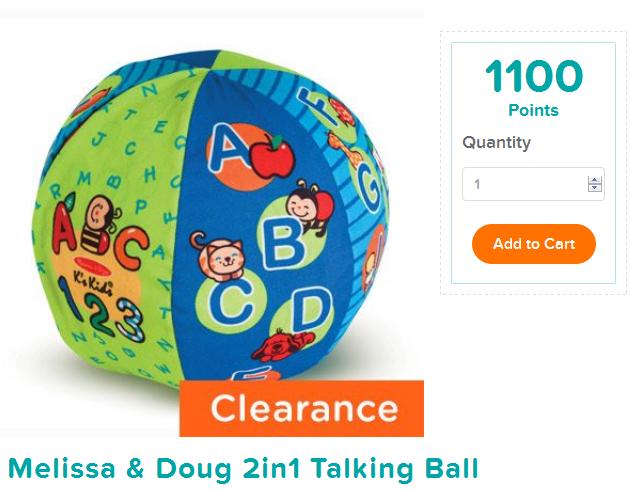 If you have been trying to reach a certain level of Pampers Gifts To Grow rewards points to redeem for something specific, now is a good time to check out the rewards catalogue, since many of the rewards are on clearance right now. Particularly with the 100 points boost to your account we let you know about earlier! You may now have enough points to order the rewards of your choice.
The regular amount of points required is no longer shown, just the current amount required to place your order. Here is a list of the rewards that are now fewer points than they previously were:
Diego Sunglasses 300 points
I Am A Firetruck 800 points
Melissa & Doug Peek-A-Boo Panda 900 points
Alex ABC Letter Stickers for the tub 1100 points
Melissa & Doug 2in1 Talking Ball 1100 points
Water Flutes 1200 points
Alex Pop Stick Art 1200 points
Melissa & Doug Farm Train 14oo points
Alex Tug Fish 1500 points
Cinda B Diapers Changing Pad 1500 points
Sand and water play set 1500 points
Sesame Street Elmo 1500 points
Learning Resources Healthy Lunch play set 1500 points
Wiggle Your Toes Touch N Giggle Block 1500 points
Alex Hold It All Fish 1500 points
Melissa & Doug Snowman Stackers 1500 points
Melissa & Doug Back & Decorate Cupcake Set 1800 points
Small World Toys Young Chef Cookware 2000 points
Gold Cosmetic Case 2000 points
Jet Elegance Stroller 3000 points
Click here to redeem your Pampers Gifts To Grow rewards points for these clearance items.