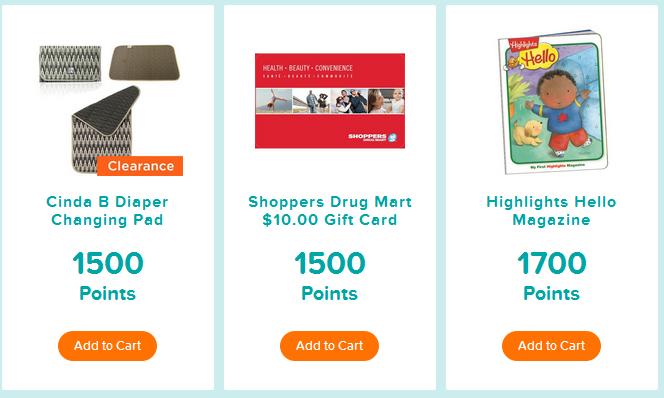 Most of the clearance rewards available through Pampers Gifts To Grow that we let you know about are now gone, but in there place there are some new rewards that you can order. If you clearance rewards or the Pampers coupon rewards didn't interest you, perhaps these new rewards will.
You can currently order a $10 Amazon.ca gift card, valid towards the purchase of any P&G product for 1200 points, or you can order a $10 Shoppers Drug Mart gift card for 1500 points. The Shoppers Drug Mart gift card doesn't usually last for long so you may want to jump on that one if you do have enough points. If you don't have quite enough points, keep in mind that if you use the $10 Pampers coupon that you can order for 1300, at Shoppers Drug Mart, it's not much different that a $10 Shoppers Drug Mart gift card.
If you are just shy of a reward that you would like to redeem for, don't forget that you can currently boost you points balance by entering a Pampers product code. For a limited time the first code that you enter will get you 3x the Gifts To Grow rewards points.
Click here to access your Pampers Gifts To Grow rewards account.