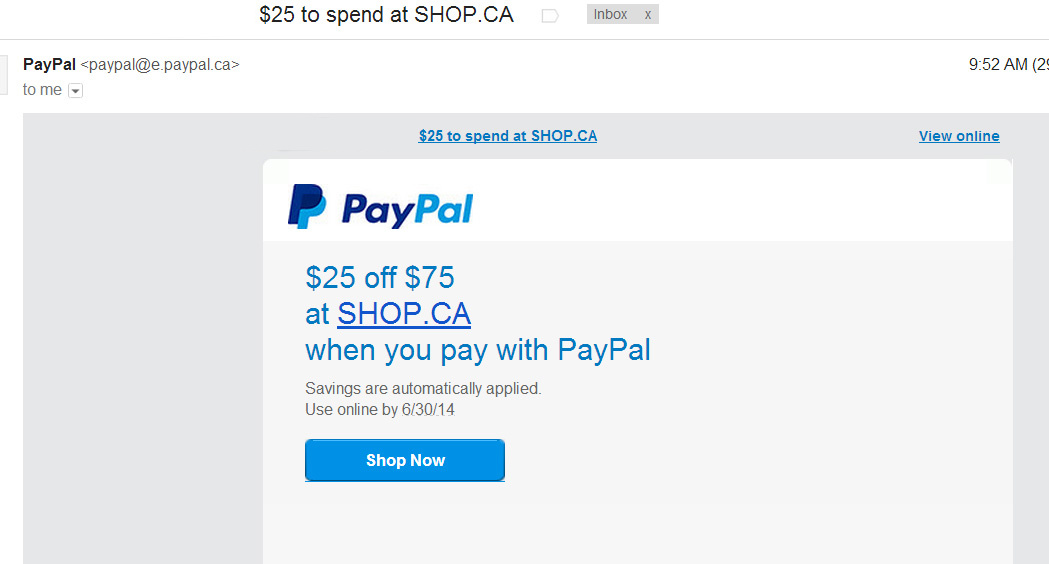 PayPal is offering account holders $25 off purchases on Shop.ca via e-mail with a minimum purchase of $75. There is also 75% rebates from ebates and Great Canadian Rebates available. The deal expires Monday, June 30. Gift certificate payments and gift card purchases are excluded. Offer is automatically applied upon checkout.
Some users have experienced lagging on Shop.ca and e-mails have been slow getting out to account holders. However, there is still plenty of time to take advantage of this great deal with more than a month to go until the expiration date. Many users have expressed caution as several items on Shop.ca can be overpriced.
Some items recommended by users include:
To be eligible for the deal one must have an active PayPal account before February 7, 2014 and they must be in good standing. Also, the account must be personal, not business. For help, PayPal Support, toll-free, can be contacted at 1-888-221-1161.
For those who did not receive an e-mail, users can see if they are eligible for the offer by proceeding to checkout, entering their information, selecting by PayPal, and logging in to Paypal. The $25 offer should be waiting in PayPal as check out occurs. Following the purchase, savings will be listed in your PayPal email receipt and PayPal account transaction details.Visit shop.ca to see the prices of what you desire and what $25 off can do for you.