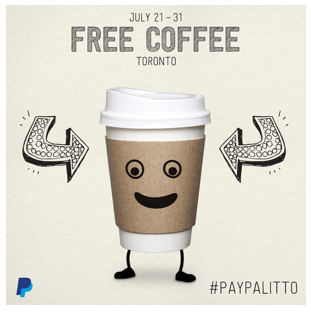 Hey coffee lovers, listen up! PayPal Canada is having a new promotion where you can get FREE money to spend at 25 coffee shops around Toronto if you check in with the PayPal mobile. That's right.. FREE money. They're giving you $5 to spend at more than 25 Toronto locations so your coffee, tea or snack is on them. This offer starts today and ends on July 31st!
How to get PayPal on your phone:
Click here to download the PayPal app for iOS or Android! Log in with your PayPal account (or create on within the app if you don't have one)
Click the 'Shop' button and select a location. Save the $5 offers and slide the blue 'P' to check in (don't forget to add a profile picture).
Tell the cashier you're paying with PayPal
There are over 25 locations across downtown Toronto:


Offer expires on July 31st.
Click here to view more about the PayPal Canada deal