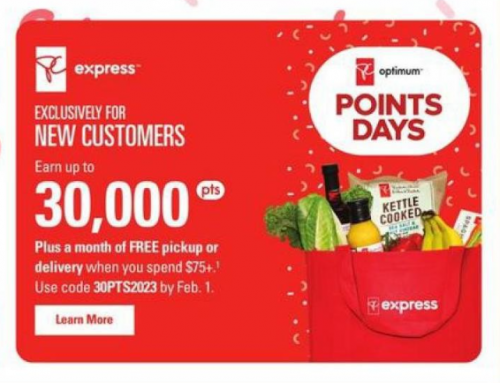 If you have never placed an order through PC Express here is a great offer during PC Optimum Points Days! Customers who are new to PC Express will receive up to 30,000 PC Optimum points plus a month of free pick up or delivery when you spend $75 using the code 30PTS2023 by February the 1st.
This offer can be used at any Loblaws grocery banner through the PC Express app. This is a great time to use the offer as these points will combine with all of the in-store PC Optimum Points Days offers that start tomorrow, and it will also stack with any personal offers that you have, so check your new set of personal offers in the morning.
It is possible to price match when ordering through PC Express, and many people are able to apply coupons to their orders as well. If you are unsure how this works you can contact your store.
Click here to place an order through PC Express.