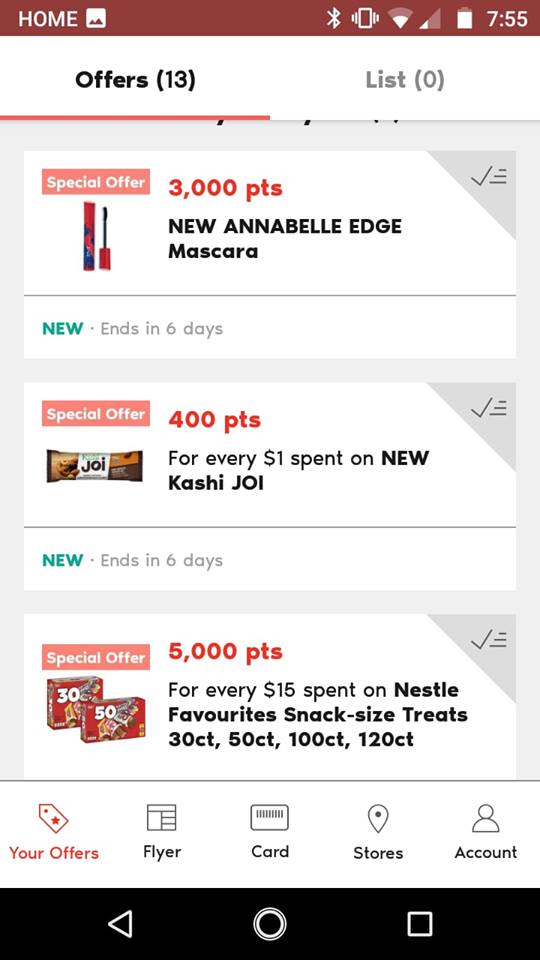 If you haven't looked at your PC Optimum app this week, you might want to have a look to see if you have one or more of these special offers this week. Scroll down to the bottom of your list of offers, and you could find these three offers:
get 3,000 PC Optimum points when you purchase new Annabelle Edge mascara
get 4,000 PC Optimum points for every $1 spent on Kashi Joi
get 5,000 PC Optimum points for every $15 spent on Nestle Favourites Snack-size Treats 30ct, 50ct, 100ct, and 120ct
The Annabelle mascara is $6.99 this week at Shoppers Drug Mart Canada, until Friday. If you purchase the mascara with this personal offer, in conjunction with the 25,000 points when you spend $75 in store offer this weekend, you will get a considerable amount back in points.  The Nestle Favourites 50 count is also on sale at Shoppers this weekend, for the price of $6.99. This is part of the Super Sale this weekend so you may wish to pick those up as well.
Click here to view these offers in the Shoppers Drug Mart flyer.