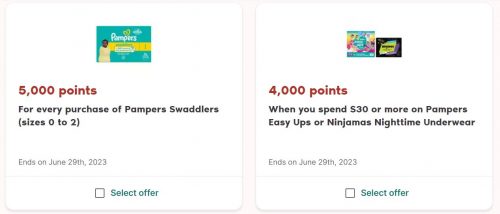 There are a couple of new loadable PC Optimum offers available for Pampers products, and you can load them through the link below while they are still available. You can load one or both of the following offers to your PC Optimum account:
get 5,000 PC Optimum points for every purchase of Pampers Swaddlers (size 0 to 2)
get 4,000 PC Optimum points when you spend $30 or more on Pampers Easy Ups or Ninjamas Nighttime Underwear
The first offer for 5,000 points will combine with offers at Shoppers Drug Mart like 20x the points, so that's something to consider when using the offers. The second offer will not combine with 20x points at Shoppers Drug Mart, but it would combine with in-store offers and store spend offers at Real Canadian Superstore, Loblaws, Fortinos, etc.  The offers are valid until June 29th, and are one-time use. If you do use the offers you might be able to reload them if they are still available.
Click here to load these PC Optimum offers for Pampers products.