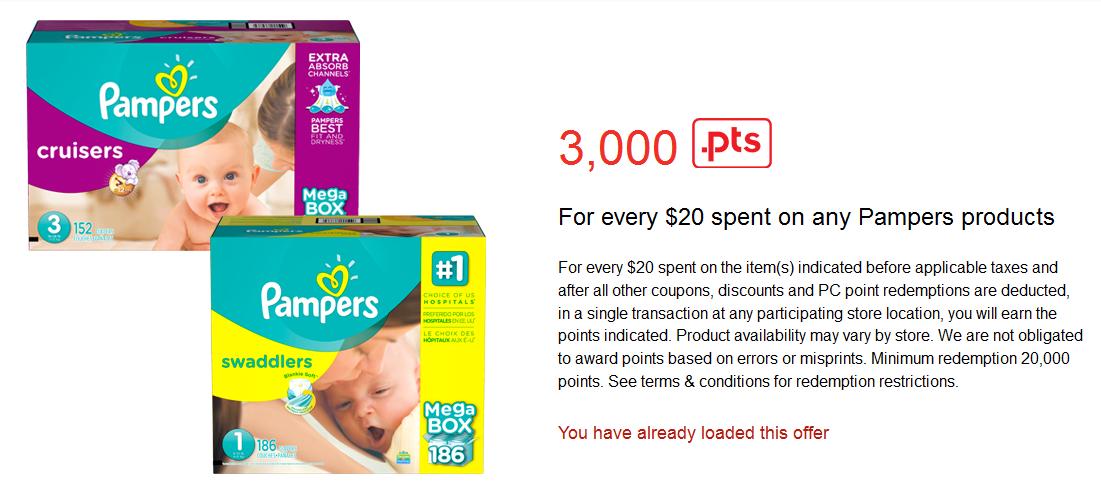 Get your Pampers coupons ready for this offer from Loblaws and PC Plus. Get 3,000 PC Plus points for every $20 that you spend on Pampers products with this new loadable offer.
You can access this offer by clicking the link below, and signing in to your PC Plus account, and you will then find the offer in your list of PC Plus offers. I just loaded mine and it shows as 6 days remaining in my PC Plus app.
So, if you have your Pampers coupons handy from P&G, or our printable SmartSource coupon portal, your best bet would be to price match at No Frills or Real Canadian Superstore, whether it be for boxes or bags of diapers, and throw in some wipes which you can price match from the Shoppers Drug Mart flyer for $2.99 starting Saturday. Use those $3 coupons to bring your out of pocket cost down, and collect some PC Plus points! Don't forget about cash back from your apps as well!
Click here to load the offer for 3000 PC Plus Points for every $20 spent on Pampers products.