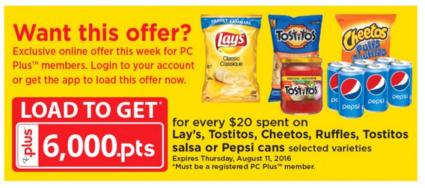 If you are in need of beverages or snacks for your summer get togethers you can head to Real Canadian Superstore this week for some bonus PC Plus points with your purchase! Until August the 11th, get 6000 PC Plus points for every $20 that you spend on Lay's, Ruffles, Tostitos Salsa, or Pepsi cans.
Be sure to price match any or all of these items from other ads if you can to get more bang for your buck. Also, there are many coupons out there that can be used in conjunction with this offer, lowering your out of pocket cost. If you spend less that $20 after coupon you will still be awarded the 6000 PC Plus points. One particularly good coupon that can be used is a peelie coupon that I recently spotted on jars of Tostitos salsa, for a free 12/15 pack of Pepsi when you purchase four participating snacks or dips, including Tostitos, Ruffles, Cheetos, and Tostitos Salsa or Ruffles Dips.
Click here to view the Real Canadian Superstore Ontario flyer.