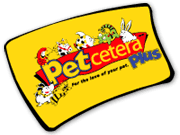 Petcetera Canada is going to be having grand re-opening days September 26 and they are celebrating by passing some saving on to you.  There are printable coupons for different days and different things.  It's a great time to show your pets some love.  Oh and don't forget to use your save.ca pet coupons to make the saving spree even better!
September 25:  Spend $15 get $5 off (click here to see fleetingleaf's post to print this coupon)
September 26: Spend $25 get $1o off and another coupon for a FREE fish (click here to print both of these coupons).
Thanks to fleetingleaf for this great post!