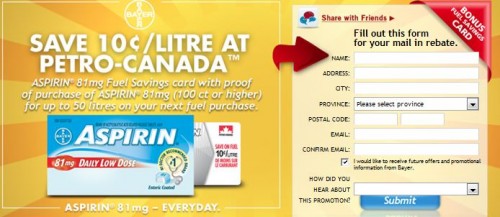 Petro Canada and Bayer Aspirin have teamed up to offer a half decent mail in rebate.  Simply puchase any 81mg Aspirin 100 count or higher, keep your proof of purchase and send away for your 10 cent a litre savings card.  The savings card is valid for up to 50 litres. So basically you will save $5 when alls said and done off your gas purchase at Petro Canada.  This would be great if theres any Aspirin coupons floating around to pair up with a sale.
You must purchase your Aspirin October 11th-January 2nd.  Forms must be received no later then February 2nd 2011.  3 redemptions per household.  Offer not valid in Quebec.  Allow 6-8 weeks for delivery of savings card.  Only open to Canadian residents and only for Aspirin purchased in Canada.  Incomplete forms will not be accepted.
Click here for more information.