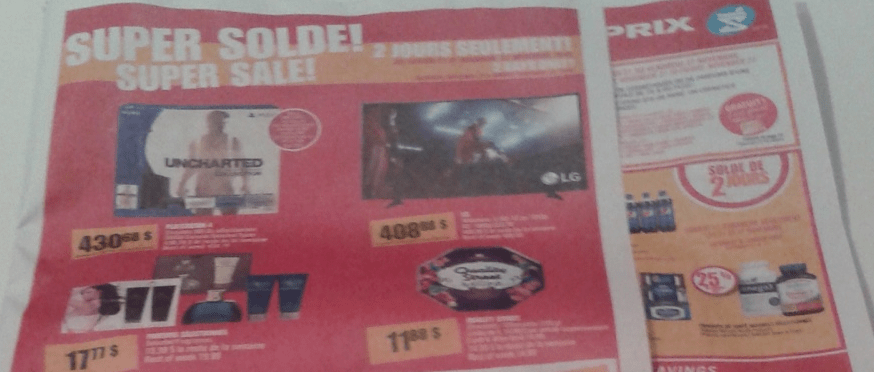 We have a sneak peek of the upcoming Pharmaprix flyer which is using very similar to Shoppers Drug Mart flyers across the country.  While there is no redemption (there are rumours of one the last weekend in November but no confirmed news) it is time for the Super Sale.
Again, these are Quebec prices and may vary across the country, but here are some of the Super Sale deals you may want to pick up during the 2 day sale next weekend:
Select perfume sets $17.77
PS4 Uncharted bundle $430.68
XBOX One bundle $400.68 + 22,000 Optimum points
Philips rechargeable toothbrushes 50% off (there is a $20 rebate too)
Betty Crocker crockpot $24.88
Tablets from $80.26
Laptops from $250.78
Amope gift set $64.88
Plus many more games, toys, electronics and more.  We should hopefully have a copy of the Ontario flyer sneak peek tomorrow with more details.
If you are looking to earn some extra points before the rumoured redemption offer, the Optimum offer next week is 20x points when you spend $75 or more on cosmetics and fragrances.  While this includes nail care and more, it will not include most of the items in the super sale, so hopefully we get some good personalized offers.
Click here to view the full flyer sneak peek.