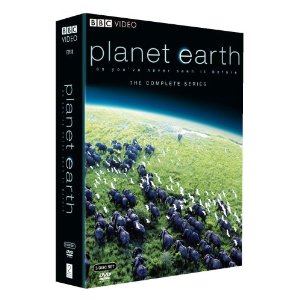 It's been a while since the BBC Natural History videos have been on a decent sale, so if you're still looking for any of them after missing the sales back at Christmas time, here's another chance. Some of them aren't as discounted as before, but Planet Earth DVD is on for $31.99.
Also:

Nature's Most Amazing Events (on Blu-Ray) for $29.49

The BBC High-Definition Natural History Collection (Planet Earth / Wild China / Galapagos / Ganges) (on Blu-ray) for $99.99
Wild Pacific (also called South Pacific in some markets, on DVD) for $23.99 – This is a very good series, 6 episodes long.

Wild China (on DVD) for $23.99

Galapagos (DVD) for $16.99
Click here to see the list of other Natural History videos.

Now in a totally unrelated note, Avatar can be pre-ordered on both DVD and Blu-Ray for $23.99 and $29.99 respectively. It is going to be released on April 22nd.