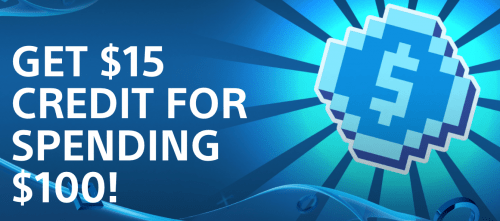 The PlayStation Network Canada has a great offer for gamers available right now! Stock up on some new titles of games and you could receive a $15 credit when you spend over $100! This deal is open to the purchase of anything on the PlayStation Network or Sony Entertainment Network, with the exception of third party application purchases, using your SEN Wallet. Unfortunately there have not been much in terms of sales on the PlayStation store the past few weeks, so it will be hard to stack this deal with sales, but if there are a few titles you've had your eye on, this may be a good chance to download them!
This offer is available until November 3rd, 2015 11:59pm PT. Third party application purchases are excluded. There is a limit of one $15 credit per account. Once you spend over $100, you'll receive a redemption Code on or before November 17th, 2015 via XMB message on PS3, system notification on PS4, PS Vita, or the email account used to set up your SEN Sign-in ID. You must redeem your Code by 11:59PM PT on December 15th, 2015.
Click here to learn more about this PlayStation Network Canada offer.