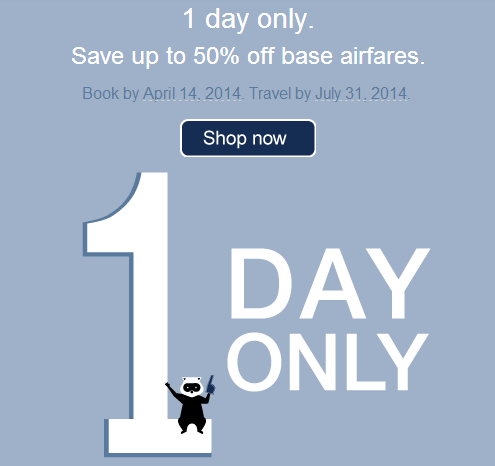 Book a Porter Airlines Canada flight took and travel by July 31st, 2014 to save up to 50% off the base airfares!
This Porter Airlines Canada offer is valid on New Bookings only. You can either book online or contact your preferred travel agent, just remember to book by 11:59 PM Eastern Time tonight to be able to enjoy the savings. The prices shown on the Porter Airlines Canada website are priced per person in Canadian amounts.
One Way Flights From Toronto To:
Windsor – $100
Sudbury – $100
Timmins – $110
Ottawa – $111
Sault St Marie – $113
Montreal – $118
Mont Tremblant – $118
Burlington – $134
Quebec City – $135
Washington – $146
New York – $147
Moncton – $148
Boston – $160
Chicago – $165
Halifax – $177
St Johns – $229
Myrtle Beach – $249
Some of the above Porter Airlines Flights may require up to 21 day advance purchase. Between May 16th-19th and June 27th – July 1st the advertised fees will be more. Of course there are many more departure cities than just Toronto! Fees, taxes and surcharges will be extra.
Click here to check out the Porter Airlines Canada Savings Available TODAY ONLY!