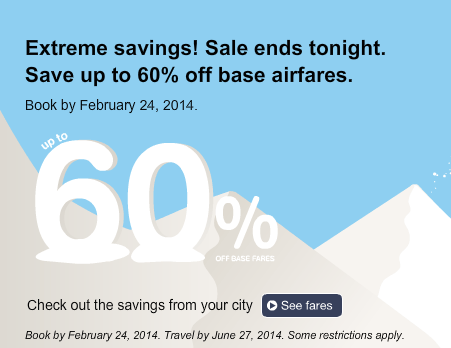 Are you planning to travel this year? Book with Porter Airlines today and you can save up to 60% off of base airfares! Hurry, this sale ends tonight.
You will be able to book flights to travel by June 27th, 2014 but they have to be booked today to reap the savings!
One Way flights from Toronto:
Windsor $89
Sudbury $91
Ottawa $94
Timmins $98
Sault Ste. Marie $100
Montreal $102
Mont Tremblant $118
Burlington $124
Thunder Bay $124
New York $131
Washington $132
Quebec City $135
Moncton $142
Boston $144
Chicago $144
Halifax $177
St. John's $230
Myrtle Beach $249
The above prices include all taxes and fees! Book by 11:59PM Eastern Time today February 24th, 2014  and travel by June 27th, 2014. The reduced fares may not be available April 18th to 21st and May 16th to 19th, 2014. Lowest fares seem to be available on Tuesday and Wednesday departures.
Click here to check out how you can Fly Porter for less!