If you're looking to save on your next flight within Canada or the US, check out Porter Airline Canada's latest flight sale! During this sale you can pile on the savings with up to 50% off base fares! In addition to these great savings, you can also save up to an extra 20% off using the promo code FHIULU while searching for flights! Your additional promo code savings reduce each day of this sale, so you can save an additional 20% off today, and an additional 15% off tomorrow.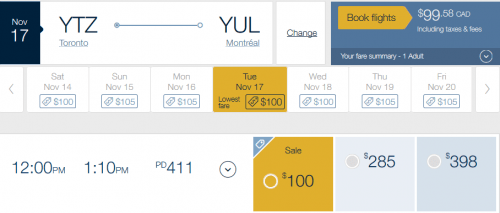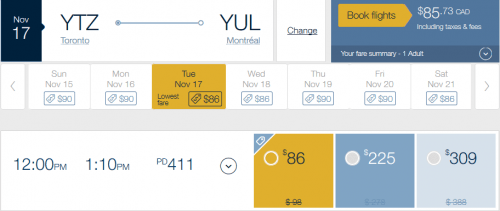 I tried searching for flights with and without the promo code and found that much of the time it wasn't quite an extra 20% off with my promo code, but there were still some savings to be had. One way flights from Toronto to Montreal were $100 when I searched without the promo code, but when searching with it on the same days, I was able to find flights for as low as $86!
This offer ends 11:59 pm ET on October 15, 2015. Travel by February 11, 2016. Up to 21 day advance purchase required. Enter FHIULU when booking for up to an extra 20% off Wednesday, and extra 15% off Thursday. This offer is for new bookings only.