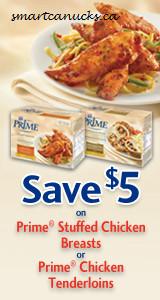 In the Price Chopper (ON) Nov. 5-11, 2010 flyer, Maple Leaf Prime Stuffed Chicken Breasts are on sale for $7.99. Use the $5 coupon from websaver.ca and pay only $2.99. I've been wanting to try these and use my coupon, but alas, my Price Chopper converted into a Fresh Co. in the summertime and there is none within a reasonable distance. Why, Price Chopper, why? *Shakes fist at Fresh Co.*
You can order the coupon here and hope it comes in time before the sale ends.
Click here to view the Price Chopper flyer.
Thank you to SarahS83 for super early sneak peek at the Price Chopper flyer!