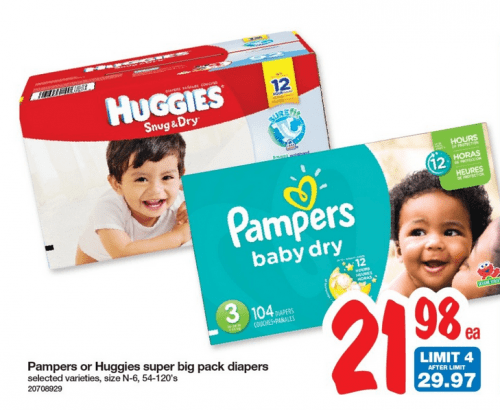 The Real Canadian Superstore has a hot deal on diapers in their current and upcoming flyers. Diapers are one of the biggest costs for parents, so if you're looking to save, you'll want to pick up these great deals.
The Real Canadian Superstore is selling Pampers of Huggies Super Big Pack Diapers for $21.98. This deal was spotted in both the current RCSS Ontario flyer that ends July 30, 2015 and the upcoming flyer that ends August 6, 2015. There's a limit of 4 packs per customer, but this is a pretty good deal. I looked around and spotted deals on the same diapers in this week's flyers for Loblaws at $22.99, and Jean Coutou at $24.99.
This deal at RCSS ends August 6, 2015 or while supplies last. There's a limit of 4 packs per customer.
Click here to view more deals in this week's Real Canadian Superstore flyer.