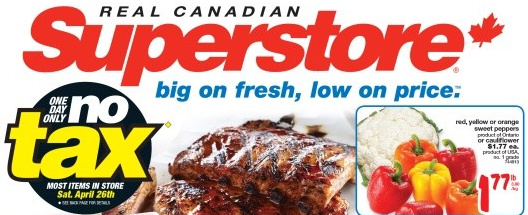 It is that time again! Time for the Real Canadian Superstore to have their No Tax Event!
This RCSS Canada is having a No Tax Sales Event on Saturday April 26th, 2014. Most items will be available for purchase without paying any taxes! This is an absolutely fabulous event if you have any Free Product Coupons laying around 😉 Normally you would be charged taxes on Free product coupons but not tomorrow!
Their Haafen Dazs ice cream is on sale for $4.98 if you're looking for a little treat for the family. Mmmm or the Farmer's Market Celebration cakes are only $3.48 each in their flyer.
In my previous experience I know this event will not apply to gift cards, pharmacy items and a few other exclusions.
Click here to check out the Real Canadian Superstore RCSS Flyers