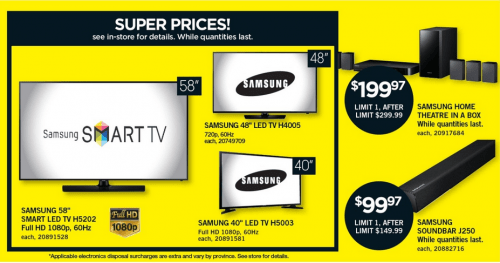 The Real Canadian Superstore has brought back it's popular No Tax Event this weekend! Head into your local Real Canadian Superstore between September 18 and 19, 2015 and you could save the tax on your purchase of Electronics, Home, Toys, and Joe Fresh Apparel! With the discounts and prices on some items like electronics, as well as no tax, some of these deals are better than similar items you can find on sale during Walmart's anniversary sale!
Deals in this week's RCSS flyer include:
$799.99 for Samsung 58″ Smart LED TV (Walmart is selling it for $748 in their flyer. You may be able to PM + no tax)
$479.97 for Samsung 48″ LED TV
$389.97 for Samsung 40″ LED TV
$199.97 for Samsung Home Threatre in a Box
$99.97 for Samsung Soundbar $99.97 ($128 at Walmart)
$388 for RCA 48″ LED TV
$279 for Haier 40″ LED TV
$49.97 for Proscan 7″ Tablet with case and keyboard
$24.97 for Canon Pixma All-in-one Printer
$349.99 for Xbox One Console+ $25 PC Gift Card (Walmart has Xbox One FIFA bundle + Battlefield Hardline + more games for $349.96
Because of the no tax event, some of the deals are better the Superstore than Walmart, however, if you're looking to buy an Xbox One, Walmart's deal is probably better since it includes much more.
The no tax event is on September 18 and 19, 2015 only. Flyer deals run until September 24, 2015. Walmart's anniversary deals end September 23, 2015.
Click here to view deals in this week's Real Canadian Superstore flyer,