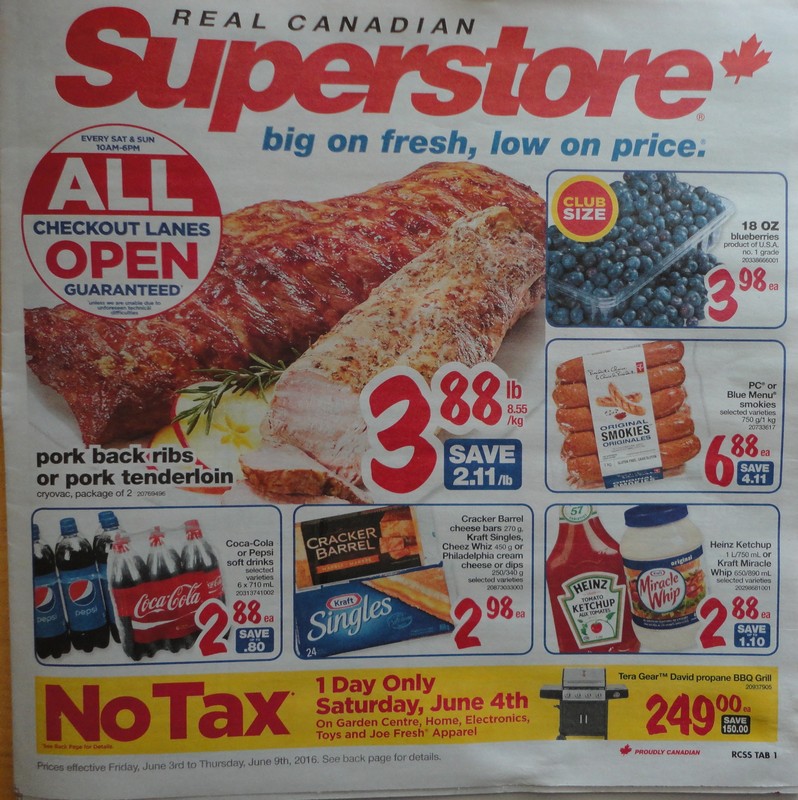 Here is a look at the Real Canadian Superstore Ontario flyer, valid June the 3rd to the 9th, compliments of cyn88canada. This Saturday, June the 4th is a No Tax day, valid on Garden Centre, Home, Electronics, Toys, and Joe Fresh Apparel.
Week long sales and highlights in this flyer are as follows:
Pork back ribs or pork tenderloin $3.88/lb
6 pack pop $2.88
Kraft Singles $2.98
Miracle Whip or Heinz Ketchup $2.88
Chapmans Premium $3.98
Sweet Baby Ray's 2/$4 (use those $2 insert coupons!)
T Fal Activfry Express $229.97 (+ no tax on Saturday)
Fri-Sun 2500 PC Plus Points on any PC Frozen Beef Burgers
That offer on the PC Frozen Burgers might align with a personal offer for boxed meats that  some of you may be lucky enough to have. If you currently have that offer, you may want to save it for next week!
Click here to view the Real Canadian Superstore flyer.