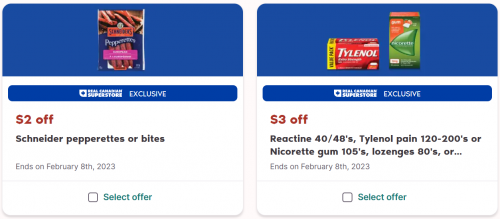 A new set of digital coupons for Real Canadian Superstore can be loaded to your account. These coupons are valid until February the 8th. You can load as few or as many as you like, and they will be available in your account for one time use. Here are the coupons that can be loaded:
$2 off Schneiders Pepperettes or Bites
$3 off Select Reactine, Tylenol, or Nicorette Products
$1 off Cheez-it Crackers
$1 off Alcan 100′ Foil
$2 off Maple Leaf Natural Selections Deli Meat
$1.50 off Tassimo T-Discs 109-263g
$1 off Coca-Cola Soft Drinks 6x237ml
50 cents off Pepsi Mini Cans 6x222ml
$1 off Select Vaseline Body Lotion
$1 off Garnier Micellar 400ml
$2 off Janes Boneless Chicken Breast Bites or Fillets
50 cents off Ferrero Rocher Chocolate Tablets
$1 off Armstrong Combos
$1 off Maple Leaf or Schneiders Ham
$2 off Vileda Mop Refills
$1 off Minute Maid
$2 off Dove Hand and Body Lotion
50 cents off Dare Candy
$2 off Pinty's Chicken Wings or Boneless Bites
$1 off Minute Maid
$1 off Fleishmann's Yeast Jars
$1 off Axe Products
Click here to load your Real Canadian Superstore digital coupons!