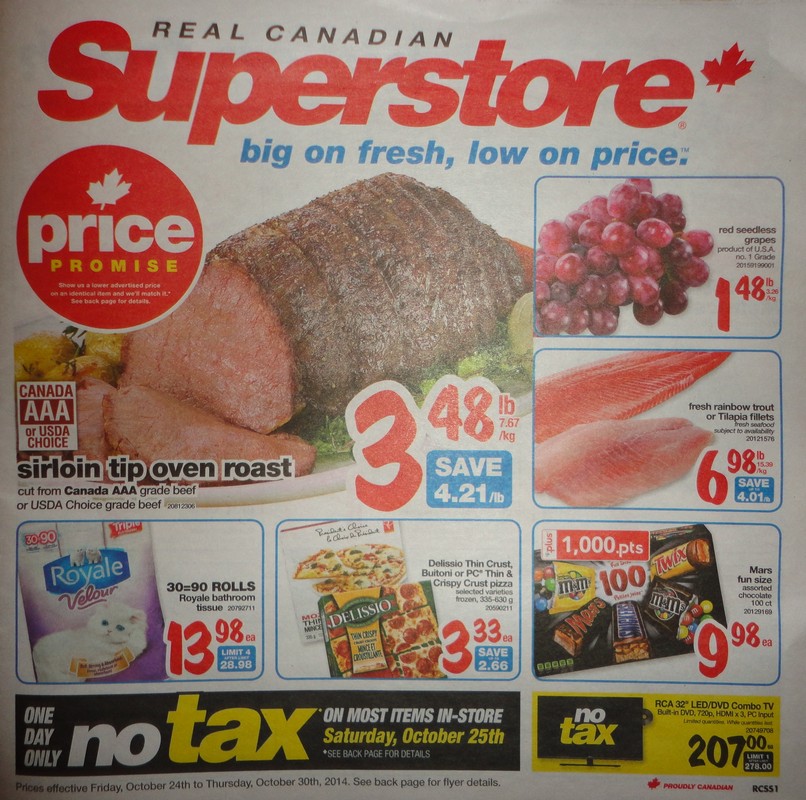 Our SmartCanucks forum member cyn88canada has enlightened us with a sneak peek at the Real Canadian Superstore flyer! It appears that the Real Canadian Superstore is having another wonderful No Tax Event for one day only!
That means that you can shop at Real Canadian Superstore on Saturday, October 25th 2014 and pay absolutely no tax on most of the items in store!
Some of the items that might catch your attention include:
RCA 32″ LED DVD Combo TV Only $207.00
LG 49″ LED $498
Toshiba 50″ $498
Acer 15.6″ Laptop Intel Celeron Only $298
RCA 48″ LED TV $417
40% Off All Candles
30% Off All Halloween Costumes
Smuckers Jam/Jelly for only $0.98 after Walmart Magazine Coupon (thank you forum member lotsasavings for letting us know)
Barilla Pasta only $0.23 after coupon (insert)
and more!
There are lots of items on sale and the RCSS No Tax Events are the perfect times to shop for all of your grocery needs! You can check out the entire flyer and details about this No Tax Event below.
Click here to check out this post in our SmartCanucks forum!