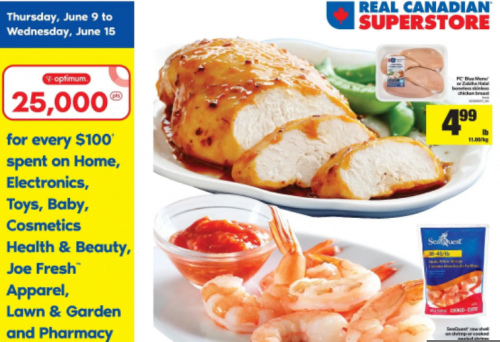 From June the 9th to the 15th get 25,000 PC Optimum points for every $100 spent in the Home, Electronics, Toy, Baby, Cosmetics, Health & Beauty, Joe Fresh, Lawn & Garden, and Pharmacy departments at Real Canadian Superstore Ontario.
This offer will combine with other in-store PC Optimum offers, and it will also combine with any personal offers that you may have. For example if you had a personal offer for Revlon cosmetics, you would receive those points in addition to the 25,000 for every $100 spent. Also, you are able to redeem your points and earn at Superstore, so you can use your points and still earn the 25,000.
Siggi's Skyr yogurt is $4.99 with a bonus of 500 PC Optimum points in the upcoming week. If you still have the free product coupon from a while back you can use it and collect the 500 PC Optimum points. There are all kinds of points offers on grocery items in the upcoming week so take a good look at those before deciding which four of your personal offers to save from this week.