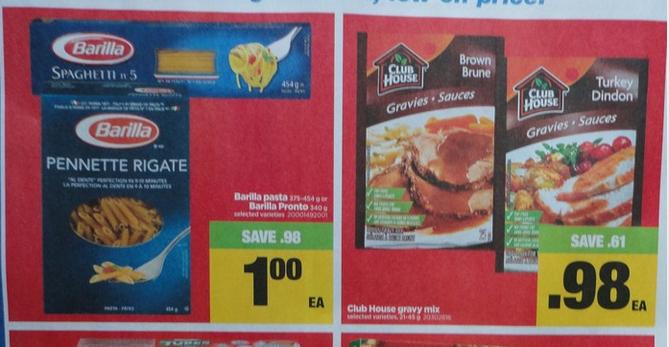 In the Real Canadian Superstore Ontario flyer, valid the 11th to the 17th of October, there are two great deals on pantry staples with coupons.
Barilla Pronto pasta is advertised for $1, and there are tear pad coupons out there for 75 cents off. If you have and use this coupon, you can stock up on pasta at just 25 cents per box. Yes it's a smaller box than the regular Barilla, but 25 cents is still an excellent deal, and for those of you have not purchased it before, although it has different cooking instructions on the package, I just cook it as I would any pasta, just being careful to make sure I don't let it boil for too long.
Also, Club House gravy is on sale for 98 cents, and with the coupon still available on the Walmart Canada coupon portal for $1 off the purchase of three, you will just 65 cents when you pick up three packages of gravy mix. These are an essential Christmas dinner item for many and a great panty item to have on hand.
Click here to view these offers in the Real Canadian Superstore Ontario flyer.
Click here to get your coupon for $1 off when you purchase three Club House gravy mixes.