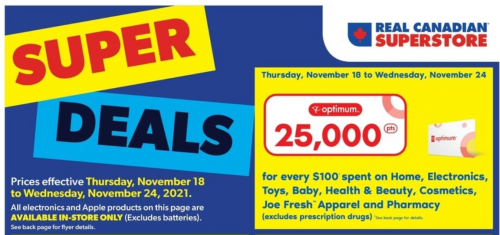 From November the 18th to the 24th, get 25,000 PC Optimum points for every $100 spent on Home, Electronics, Toys, Baby, Health & Beauty, Cosmetics, Joe Fresh Apparel, and Pharmacy at Real Canadian Superstore Ontario!
Although this offer is slightly lower in value than the 15,000 points for every $50 that you would get at Loblaws Ontario this week, some of you may not live close to a Loblaws or Loblaws banner store with that offer. Whether you are shopping at Loblaws or Real Canadian Superstore for these in-store offers, it is also important to note that you should be able to get these offers even if you redeem points. You do not earn PC Optimum points when you redeem at Shoppers Drug Mart, but this is not the case at other Loblaws banners. If you have PC Optimum points accumulated you could redeem them and earn back these in-store offers this week.
Click here to view the Real Canadian Superstore Ontario flyer valid November the 18th to the 24th.