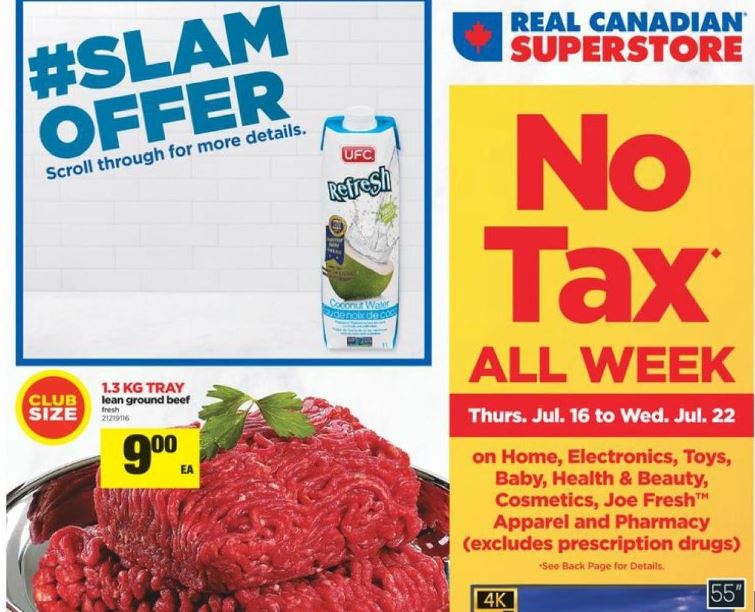 This week at Real Canadian Superstore Ontario, save the tax on items from select departments. From July the 16th to the 22nd, you'll save the tax on all items in the home, electronics, toys, baby, healthy & beauty, cosmetics, Joe Fresh apparel, and pharmacy departments.
Here are some of the other highlights of the flyer:
1.3kg tray of lean ground beef $9
10lb bag russet potatoes $1.98
Cauliflower $1.98
D'Italiano Bread or Buns $1.97 (Use the buy one get one free printable for the buns)
Pampers Club Pack Plus Diapers $27.98 member price
Select Made Good products $2.98
Club Size Chicken Leg Quarters $2.28/lb
3,000 PC Optimum points for every $15 spent on Arla or Tre Stelle cheese in the deli department
Get 2,500 PC Optimum points when you buy two Annette's mini donuts
Get 2,000 points for every $10 spent on Ancho, Oka, Jarlsburg, or Ile De France Cheese in the deli department
No Name Potato Chips $1
Buy two Goldfish crackers, or Dare Bold N Baked Crackers, and get 2000 PC Optimum points
Hellmann's 1.42L Mayo $6.98 + 2000 PC Optimum points
Buy any two Royale Tiger Towels and get 5000 PC Optimum points
Buy two Miss Vickie's Potato Chips or 7 Up Soft Drinks and get 1000 PC Optimum points
3,500 PC Optimum points for every $10 spent on Heinz by Nature baby food products
4,000 PC Optimum points for every $20 spent on L'Oreal Facial skin products
Click here to view the flyer on our forum.