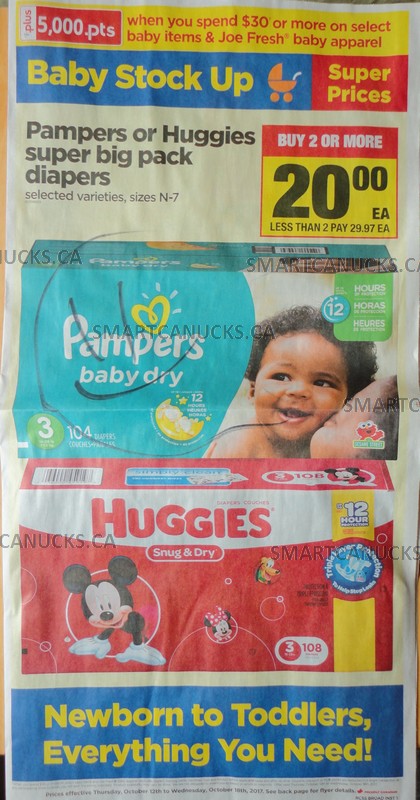 If you will be in need of diapers in the near future, you may want to take this excellent opportunity to stock up at Real Canadian Superstore Ontario from October the 12th to the 18th. All week long, Pampers super boxed diapers, or Huggies giga boxed diapers, are on sale for $20 per box when you purchase two or more boxes.
There is also a bonus of 5000 PC Plus bonus points when you spend $30 or more on baby items, so you will get $5 back in points as well when you purchase the two boxes. In addition, there are coupons out there for both brands of diapers. There are $3 tear pad coupons for Pampers still valid until the end of month, and there are a couple of options for the Huggies. You may have $3 coupons, or there are the $8 off when you buy two tear pads, both valid until December 31st. So, if you have, let's say, the $3 coupons, and you purchase two boxes for $40, you will pay $32 out of pocket, and earn 5000 PC Plus points, making the final cost $27 for two boxes, or $13.50 each.
Click here to view this offer in the Real Canadian Superstore Ontario flyer.