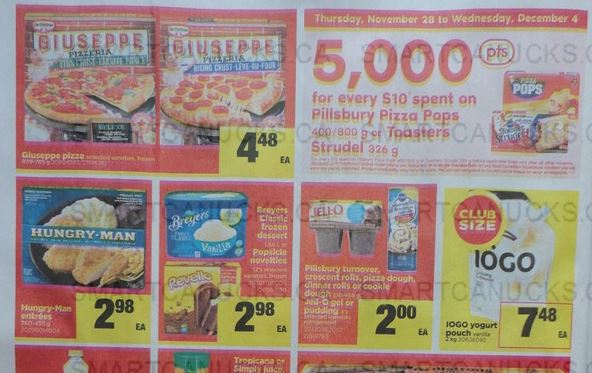 This week Real Canadian Superstore has a PC Optimum points offer on Pillsbury Pizza Pops and Toaster Strudel. Until December the 4th, you will get 5,000 PC Optimum points for every $10 spent on either of these products.
If you are able to price match the Freshco ad at Real Canadian Superstore Ontario, then you can get a great deal on these items this week! Freshco has both the Pizza Pops and the Toaster Strudel on sale for $2 each this week. If you price match five of these products in any combination, your total would be $10 and you would receive the 5,000 PC Optimum points. With a value of $5, these points bring the cost of your purchase down to $5, making these products just $1 a box.
For those whose Superstore location limit price matches to four of a product, you can easily get four Pizza Pops and one Toaster Strudel, or four Toaster Strudel and one Pizza Pops. You could also do two of one, and three of the other.
Click here to view this offer in the Real Canadian Superstore Ontario flyer.