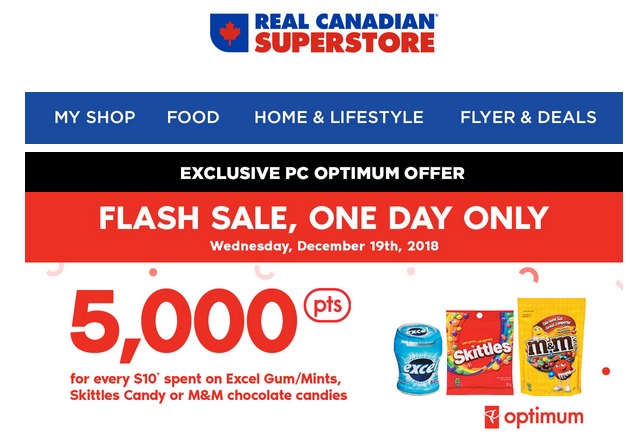 Here is another great flash PC Optimum offer, this time at Real Canadian Superstore. Valid tomorrow only, Wednesday, December the 19th, get 5,000 PC Optimum points for every $10 spent on Excel Gum/Mints, Skittles Candy, or M&M chocolate candies.
You will not find this offer in your PC Optimum app tomorrow, as it is an in store offer only. Your points will appear on your receipt after your purchase is made. There will likely be plenty of store signage promoting the offer. If you have personal offers for any of these products, you will get those points in addition to the 5,000 for every $10. Keep an eye out for $1 peelies on M&M products as they are out there.
While I don't see any of these products advertised in the Real Canadian Superstore Ontario flyer, do keep in mind that you can price match other ads.
Click here to view the Real Canadian Superstore Ontario flyer.