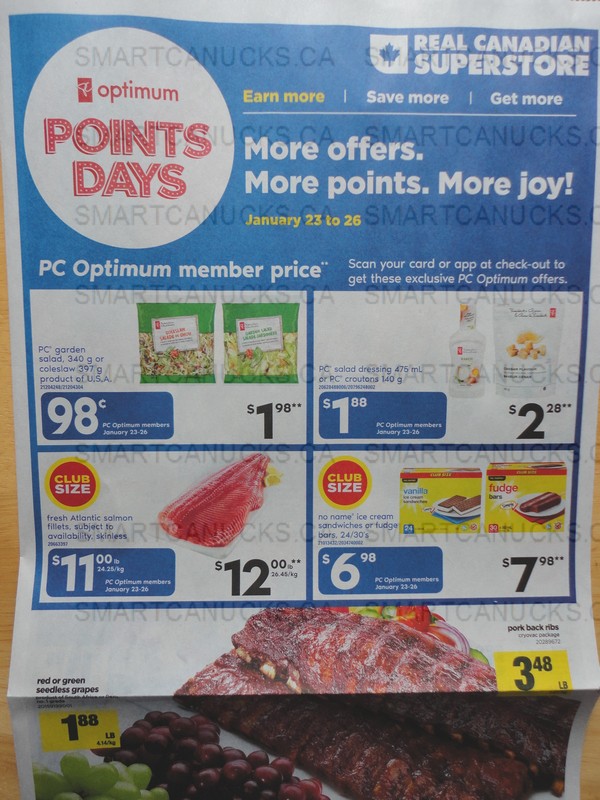 From January the 23rd to the 29th, Loblaws banners stores, including Real Canadian Superstore, will be having PC Optimum points days!
You will have to see the digital flyer for all the PC Optimum points offers in the upcoming week, as the paper flyer seems to be getting smaller. While stores like Loblaws and Zehrs also have plenty of offers this week, at Superstore you can ensure you get the best deal by price matching where you are able!
There are a few members only prices from the 23rd to the 26th, and here are the offers valid for these for days:
PC Garden Salad or Coleslaw .98 (non members pay $1.98)
PC Salad Dressing or Croutons $1.88 (non members pay $2.28)
Fresh Atlantic Salmon Fillets $11/lb (non members pay $12/lb)
Club Size No Name Ice Cream Sandwiches $6.98 (non members pay $7.98)
Also, if you still have the Nescafe pods free product coupons, you can use them at Superstore this week where they have a bonus of 2000 PC Optimum points.
Click here to view the upcoming Real Canadian Superstore Ontario flyer.