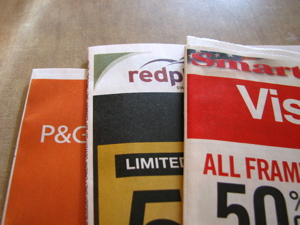 As if all of the Black Friday sales weren't enough excitement this week, we can also expect a new coupon insert! Check your flyer bundle this week as it may contain the latest edition of the Redplum coupon insert. This November the 27th issue will contain the following coupons:
Save 75 cents on any Blistex product
Save $3 on Zax's Facial Redness or Scar Fading Cream
Save $3 on Zax's Original Dark Spot or Dark Circle Eye Cream
Save $2 on any Cold FX Product
Save $3 on Bausch + Lomb Ocuvita
Save $3 on Cerave Products
Save $2 on any Swiss Naturals Product
Save $1 on any Cream of Wheat Product
Save $1 on any Sugar Twin Product
Save $3 when you purchase two Uncle Ben's Natural Select or Quick Cook Perfection products
Save $3 on any Robax Product
Buy any Simple Moisturizer and get one Wipes or Moisturizer free
Save $1 when you purchase Sunlight Dishwasher Pacs and Liquid
Save $1 on any Vim product
Save $10  on any Sonicare Air Floss or Rechargeable Toothbrush
Save $5 on any Sonicare Brush Head Refill or Whitening Pen
Save $15 on the purchase of a Sonicare Rechargeable Toothbrush
A nice assortment of coupon in this edition. A reminder that these may vary by region, and if you do not receive a RedPlum this week with your flyers, do not worry as sometimes they will show up the following week in some areas.