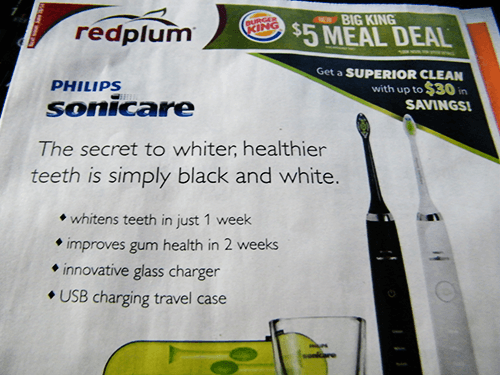 Along with the BrandSaver coupon insert we mentioned earlier, this weekend's papers also include a Redplum coupon insert.
Save $10 on the purchase of a Philips Sonicare Airfloss, Essence or Sonicare for Kids
Save $5 on the purchase of any Philips brush head refill
Save $15 on the purchase of Philips Sonicare DiamondClean, FlexCare, or Healthy White rechargeable toothbrush.
For those hoping to stack these, the wording on the coupons is: Not valid with any other coupon or offer.  Limit one coupon per purchase.  Taxes are included in face value of coupon (should you be lucky enough to find one for less than the face value).  These coupons expire June 30th so not long to find a sale to use them.
Other coupons:
Save $1 on Minute Rice Ready to Serve Mexican Rice – expiry November 30th
Save $1 off the purchase of Natrapel (DEET free repellent) – expiry December 31st
The insert also includes some Burger King coupons:
BOGO Whopper Sandwich
BOGO Chicken Big King Sandwich
BOGO Big King Sandwich
Whopper Sandwich only $2.50
Big King Sandwich only $2
Two can dine for $8.50 – Chicken Big King combos
Two can dine for $8.50 – Big King combos
Two can dine for $9.50 – Whopper combos
Not the most exciting of coupon inserts.