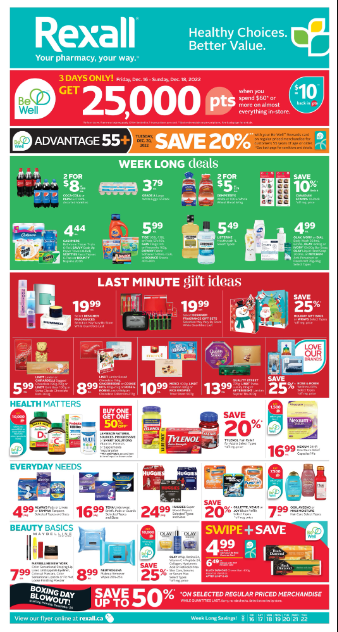 Friday, December the 16th, to Sunday, December the 18th, get 25,000 Be Well points at Rexall Canada when you spend $60 or more on nearly anything in the store. That is a value of $10 back in points that you will receive for your purchase.
There is no 3-day sale this week however, but many of the items that are typically included in Rexall's three day sales are still a good sale price, and these prices are valid all week:
Coke or Pepsi 6pk 2/$8
Dozen Eggs $3.79
Dempster's White or Whole Wheat Bread 2/$5
Canadian Stamps 10 Pack 10% off
Cashmere Bathroom Tissue 6 Triple Rolls $4.44
Listerine 1L $5.49
Olay or Dial Body Wash $4.99
On Tuesday, December the 22nd, customers 55 years of age or older get 20% off regular priced merchandise with their Be Well card. There is also a Swipe & Save offer on Black Diamond Cheese Bars this week. Regularly priced at $6.49, swipe your Be Well card and pay just $4.99 for up to 3.
If you download the Be Well app or register your card, you will receive $5 worth of points on your next eligible purchase when you load the offer. Your card must be registered by January the 5th.
Click here to view the Rexall Canada flyer.