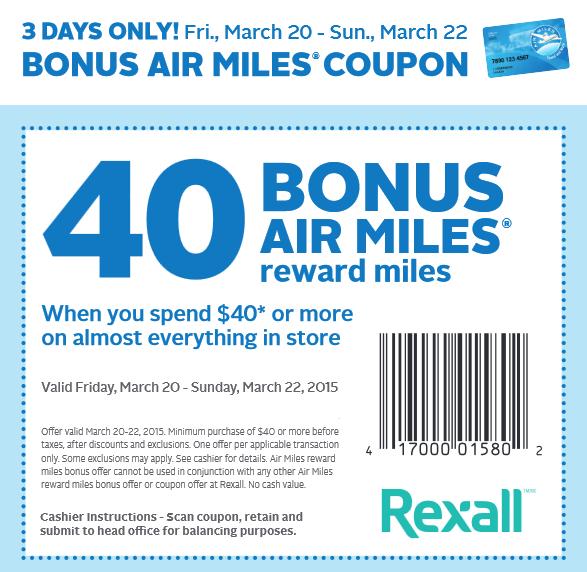 It seems that Rexall Canada is beginning to rival Shoppers Drug Mart when it comes to printable coupon offers during the week! Rexall Canada has made another coupon for bonus Air Miles rewards miles available, this one being valid this weekend only. From today, Friday March the 20th, to Sunday, March the 22nd, get 40 bonus Air Miles reward miles added to your collector account when you spend $40 or more on almost everything in the store.
Your minimum spent must be $40 before taxes, however keep in mind that like the Shoppers Drug Mart Optimum program, you can use coupons to bring down the amount that you have to spend out of pocket, like cash. Also, as the coupon does state that there is a limit of one offer per transaction, you have the ability to do more than one transaction and use the coupon more than once. If you are going to spend at least $80, make sure to break your purchase up into two and use the coupon once per transaction.
Click here to print your coupon for 40 bonus Air Miles reward miles when you spend $40 or more at Rexall Canada, March 20th to 22nd.