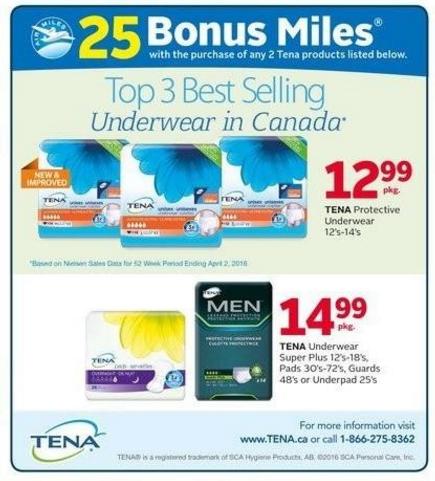 If you ordered the coupon for up to $14 off the purchase of any Tena product a while back, here is a great use for that coupon at Rexall Canada. This week, Tena Protective Underwear 12-14 count is advertised for $12.99. If you use your coupon for up to $14 off, the package is free. If you purchase two packages, you will also receive a bonus of 25 Air Miles rewards miles.
The Tena Underwear Super Plus 12-18 count, Pads 30-72 count, Guards 48's, or Underpads 25's are also on sale this week. These are advertised for $14.99, so while not completely free with your coupon, you will still receive the 25 bonus Air Miles with the purchase of two.
If you have the coupon for up to $7 off any Tena product, the smaller packages of pads or liners are on sale for $5.99 this week. These are also free with the $7 coupon, but there are no bonus Air Miles available on these products.
Click here to view these Tena deals in the Rexall Pharmaplus flyer.
Click here to order the Tena coupons which are still available.