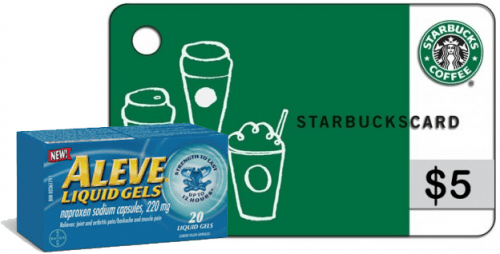 Aleve is on sale for $4.99 for a 20 count pack at Rexall this week.  It will count towards the $50 needed to earn 110 bonus Air Miles tomorrow (worth over $11 in Air Miles Cash plus you can use either the $3 coupon from save.ca or this $2 printable coupon to reduce your out of pocket cost.
Then print this mail in rebate and get a $5 Starbucks gift card by mail.  Both the rebate forms and coupons have been found in stores if you do not have a printer.  Even after tax, you would be getting the Aleve for free after the gift card offer.
Click here to view the Rexall flyer.