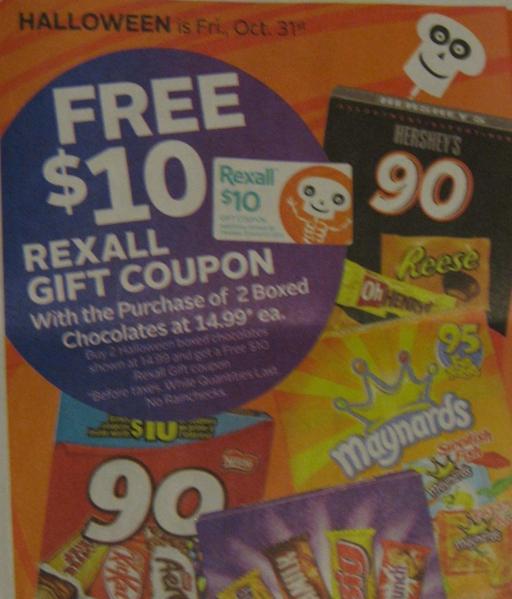 Halloween is fast approaching, and this week Rexall Ontario has a promo on Halloween candy. All week long, beginning October the 10th, purchase two boxes of Halloween chocolates at $14.99 each, and you will receive a $10 Rexall Gift Coupon. This offer is only available while supplies last, and no rainchecks will be issued. The offer is valid only on the boxed candy shown, which includes:
Nestle 90 Count chocolate bars
Cadbury 95 Count chocolate bars
Hershey's 90 Count chocolate bars
Maynards 95 count candy
You will notice the Nestle box has $10 in coupons on it again this year. Last year the coupons included $2 off Delissio Pizza, which certainly made me more inclined to purchase the Nestle treats! Not that I need more incentive to go with the Nestle…Coffee Crisp and Kit Kat are my absolute favorites. What's your favorite Halloween treat?
Click here to view the Rexall Ontario flyer beginning Friday, October the 10th.