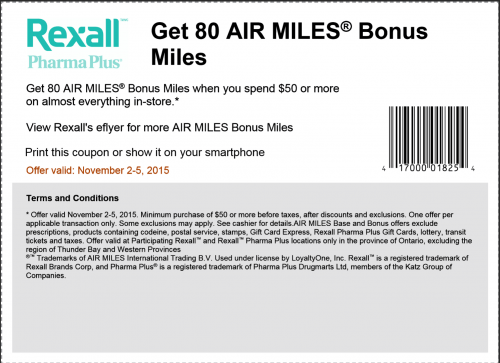 Rexall Pharma Plus Canada has a new coupon offer that will get you Air Miles rewards miles towards your next trip! next time you head into Rexall, print out or show this coupon on your smartphone and you could receive 80 bonus Air Miles with any purchase of $50 or more! This great deal can be combined with your purchase of just about anything in store, meaning you can combine it with flyer deals to save money while getting rewards miles towards your next trip!
This Bonus Air Miles offer is only valid November 2-5, 2015. This offer is valid only in Ontario, excluding Thunder Bay and also excluding Western provinces. Your coupon will also exclude the purchase of prescriptions, products containing codeine, postal services, stamps, gift cards, lottery, and transit tickets.
Click here to get your Rexall PharmaPlus Canada Bonus Air Miles Coupon, 
Or Click here to see deals in this week's Rexall Pharma Plus Flyer.