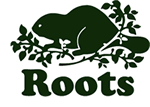 A friend of mine flipped when she saw this deal online today, she's really big into Roots stuff.  Anyways, from now through September 7 Roots is offering Free Shipping on any size order online.  Also there is a new coupon code to get 20% off all sale items until September 13.  They have 60% off their summer line right now so it's a good time to use this coupon.  For the best possible deal you should use the coupon code before September 7 to get the Free Shipping deal.
To get your 20% discount enter coupon code EXTRAEXTRA at checkout and watch even more money come off already reduced items. Great time to buy some Christmas goodies.
They also have a promo where they are giving away a Free leather gift (I think it's a bag) when you purchase $125 online but I don't know if this will work with the 20% off deal.  Wouldn't hurt to try though.
Click here to start shopping and saving at Roots Canada today!