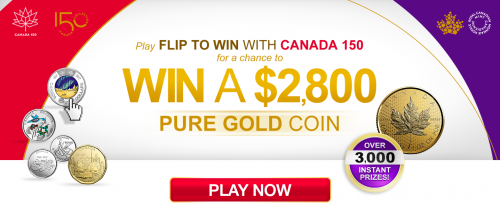 Royal Canadian Mint Canada is offering Canadians a chance to win a pure gold coin valued to be worth $2,800. To enter for your chance to win this decadent coin, all you will have to do is head over to this landing page, sign up (if you haven't yet already), and then try to get three matching coins in a game that will give you five guesses.

You will have a total of three rounds to try and get three coins in a row, and if you guess correctly, you will be able to receive a free pure gold coin. But don't fret if you don't receive the big prize as there are still several smaller prizes to be won.
They include:
2017 Pure Silver Proof Set – 150th Anniversary of Canadian Confederation (two available)
2017 Special Wrap Roll 2-Collection Subscription (50 available)
2017 Canada 150 Circulation 12-Coin Collection (The Map) (300 available)
Official Canada 150 Collector Card (2800 available)
The contest will be closing on December 31, 2017.
Click here to enter to win a $2,800 valued pure gold coin.
Click here to shop at Royal Canadian Mint.