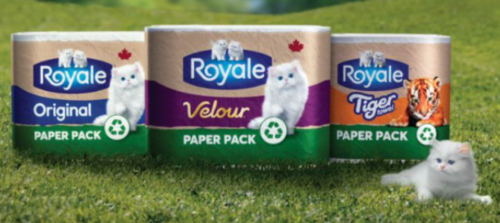 If you visit the Royale Canada website through the link below, you will find that there are several Royale coupons available there, Click "Special Offers" at the bottom of the page, and you can access the following coupons:
Save $1.50 on Royale Tiger Towels
Save $2 on Royale Velour Facial Tissue 12 Pack or Original 2-Ply Facial Tissue 12 Pack
Save $3 on Royale Velour Facial Tissue 18 Pack or Original 2-Ply Facial Tissue 18 Pack
You can also sign up for the Royale Canada email list for special savings, offers and more.  The printable coupons are powered by Promotion Pod, and you can usually get a few prints with this type of coupon, but they sometimes require that you enter a verification code sent by text after so many prints. Make sure that you use a valid phone number in order to receive the verification code.
The 18 pack of Facial Tissue is on Rollback for $18.77 at Walmart this week, making them $15.77 with the printable coupon.
Click here to get your coupons for Royale products.