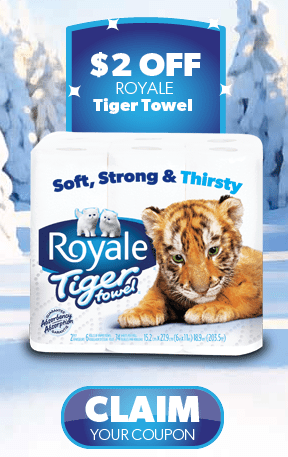 As a thank you for helping Royale celebrate their 50th Anniversary, they are releasing 75,000 coupons to their community over the next 3 weeks! The coupon that is released at the moment is $2 OFF Royale Tiger Towel. When you claim this coupon, it will be mailed to your home address. There are only 25,000 of these available so claim your coupon now!
You will want to head back to Royale's Facebook on December 3rd to receive $2 off ROYALE Facial Tissues!
If you experience any issues with retrieving your coupon please go to http://www.gocoupons.ca/contact-us.html and complete the online form. Please allow up to one week to receive your coupons in the mail.